Hughes Blog
Thoughts on Software Development, Project Management, Parenting, and Running.
Sunday, February 13, 2005
What state is Vermont in anyway?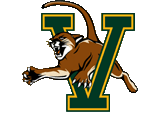 How many UVM alumni do you suppose its possible to get into a room in Dallas Texas? Until yesterday, I figured a couple maybe as many as five. After all your average Texan doesn't even know what state Vermont is in! That's why I was pretty surprised yesterday when I walked into Christies Sports Bar on McKinney and found like 25 alumni gathered to watch the Catamounts take on BU.

Logan and I had a blast watching the game, even thought the Cats came up short. Coppenwrath scored

37 Points!!

So that ends a 15 game winning streak for the Cats, which was the second longest in the country after Illinois. As usual The Terriers have thrown down the gauntlet to let Vermont know that the road to

THE BIG DANCE

will go through

BEANTOWN

in the America East Tournement this year!
Comments:
Yes they are for now. ;-)
I'll bet you can get more than 25 Illni alums together in a room in Dallas too!
Post a Comment
<< Home
All views expressed in this post and on this blog are my own. None of my comments should be construed to represent the views of others including and not limited to: BMC Software Inc., Corel Corporation, Dun and Bradstreet and AC Nielsen. Copyright Chris Hughes 2004-2012